Alternatives to Opioids (ALTO): Innovative Pain Management in the ED Course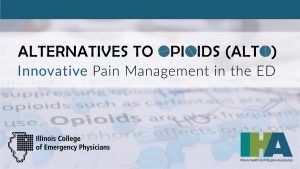 New ALTO education from IHA & ICEP!
The online course fulfills your requirement for 3 hours of opioid education mandated by Illinois state law effective January 1, 2020.
Course access is free for IHA Cohort Hospital personnel and ICEP members. Register online here

Non-member physicians may purchase the course for $50.00.

About The Program
In 2019, the Illinois Health and Hospital Association (IHA) launched the first pilot cohort of the Alternative to Opioids (ALTO) project. The pilot involved 5 Illinois hospital emergency departments (EDs) over a six-month span with a goal of reducing the administration of opioids in those EDs by 15 percent. The cohort participating sites achieved an average 22 percent reduction in the administration of opioids during those six months.  The Illinois College of Emergency Physicians (ICEP) was a partner in the original cohort in developing and implementing a course in ultrasound-guided nerve blocks.
This partnership is being expanded with the delivery of this online course that focuses on:
IHA/ICEP Opioid Prescribing Guidelines
ALTO clinical pain management pathways
Implementing ALTO at your institution
Upon successful conclusion of this online course, a maximum of 3.25 hours of AMA PRA Category 1  CreditsTM will be awarded.