Spring Symposium
2022 Spring Symposium Symposium
and Annual Business Meeting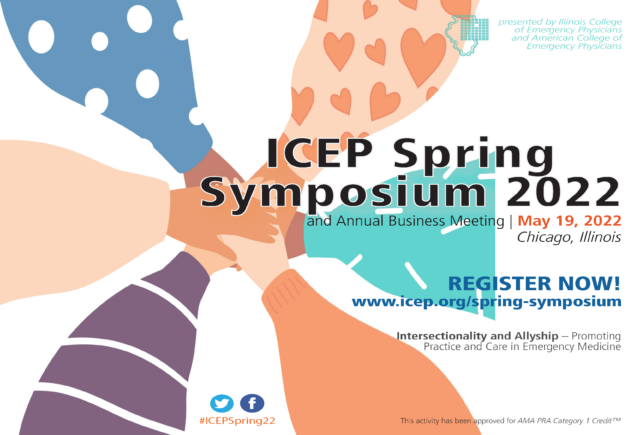 Thursday, May 19, 2022
Northwestern Feinberg Pavilion, Chicago, IL

Brochure | Meeting Program Booklet | Evaluation | Disclosure to Learners | Agenda
2022 Spring Symposium Statewide Research Showcase eBook
Spotlight PowerPoint Presentations:
Microaggression and Medicine – Shikha Jain, MD, FACEP
Power Dynamics in EM – James Adams, MD, FACEP
Trauma-Informed-Compassionate-Care-Ashlea-Winfield-MD-MSPH
Fisher & Paykel presentation by Chris Hutchinson, PGDip, BE:

Handout
COVID-19 Policy:
The Illinois College of Emergency Physicians has a COVID-19 policy to afford the greatest level of protection for all our staff and attendees.
All ICEP meeting and educational event attendees are required to be fully vaccinated* and may be asked to show proof of vaccination upon entry to the event space.
Proof of vaccination – demonstrated by:
a photo/copy of your vaccination card, plus a photo ID,
your personal health care portal documentation of vaccine administration (e.g., MyChart app),
another mobile app that stores proof of vaccination (e.g., Clear or My Bindle).
Social distancing protocols are required.
Masking of all participants is required.
If you have had COVID-19 within the past 3 months (90 days) and no vaccination, if requested, you may show proof of previous COVID-19 positive status with date. You must not have any symptoms, be greater than 10 days out from illness if not hospitalized (or 20 days out if hospitalized) and show proof of a negative COVID-19 test within 24 hours prior to the date of the event.
If you do show up at the meeting with symptoms or develop symptoms during an event, we reserve the right to require you to leave the event.
ICEP reserves the right to amend this policy at any time based on changes as stipulated by national and/or state public health official guidance.
Unfortunately, for most in-person events, due to the logistics of hybrid platforms and the nature of these events, there is not a virtual option, unless otherwise stated.
Definitions:
*Fully vaccinated – the definition of what is considered "fully vaccinated" may change as state and national guidelines change.
Revised 5/2022
Parking at Northwestern Feinberg Pavilion:
Discounted parking has been arranged at NMH for use in garages A, C and D. The discount tickets will be available at the ICEP registration desk.  The rate is $13 for the first 7 hours or $28 for up to 12 hours.  All lots are pay as you leave and are within walking distance of the Feinberg Pavilion.  The discount ticket is only valid for the Huron/St. Clair Self Park (A) and the Erie/Ontario Self Park (C and D).  Discounted tickets will not be honored by any other parking garage.   NOTE: The 222 E Huron garage (A) is been very busy as more patients are driving than taking public transportation.  Parking availability is a lot less than it used to be, plan to spend more time looking for parking.   Northwestern Memorial Hospital | Chicago, IL | Northwestern Medicine
Exhibitor List:
| | |
| --- | --- |
| (PLATINUM SPONSOR) | (PLATINUM SPONSOR) |
| (SILVER SPONSOR) | (SILVER SPONSOR) |
| | |
| | |
| | |
| | |
| | |
2018 Spring Symposium Photo Gallery




















---
2016-2017 ICEP Year in Review
2017 Photo Gallery
Click each photo to enlarge:
---
2016 Spring Symposium Photo Highlights
Annual Business Meeting Photo Highlights
---
2015 Spring Symposium Program Highlights
Click each thumbnail to see full-size photo from the program:
More photos posted to ICEP's Facebook page!
---