Conference Center Rental Opportunities
The ICEP Conference Center is an upscale meeting space in Downers Grove that accommodates all your needs … and your budget.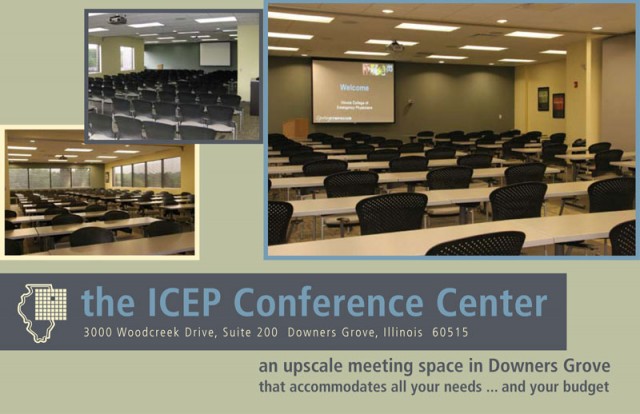 Located in the Esplanade business park in Downers Grove, the ICEP Conference Center is available for full-service meeting rentals and can host conferences or meeting functions that range from small groups up to large events for more than 100 participants.
Features:
State-of-the-Art Equipment and Technology
Dedicated LCD projectors that connect to your laptop or ours (PC or Mac)
Retractable screens installed in ceiling
High-speed wireless Internet and electricity access for all guests
Videoconferencing with up to 3 additional sites simultaneously via Polycom technology
Audioconferencing via speaker phone and wireless microphones for enhanced sound
All audiovisual equipment tested to ensure participants onsite and offsite can hear and be heard clearly at all times
Capacity and Square Footage
Full Conference Center: 2,100 square feet
Accommodates 80-100 participants classroom-style at 6-foot tables
Accommodates 140 participants theatre-style
Divisible via air wall into Training Rooms East and West: 1,050 square feet per room
Accommodates 40-55 participants classroom-style at 6-foot tables
Accommodates 70 participants theater-style
Catering and Overnight Accommodations
Variety of catering options available
ICEP rate negotiated at Doubletree Guest Suites Chicago/Downers Grove, located just across the street within walking distance of the ICEP Conference Center (view ICEP rates and details)
Corporate rate includes buffet breakfast for up to 2 adults per room per day and complimentary wireless Internet access in guest room
Meeting Space Rental Rates – 2019:
(Rates applicable Monday through Friday, 8:30 AM – 4:30 PM)
Full ICEP Conference Center (entire space)
| | |
| --- | --- |
| Half Day: $300 |  Full Day: $600 |
Training Room East or West (one space)
| | |
| --- | --- |
| Half Day: $150 |  Full Day: $300 |
Board Room (separate space; Board table for up to 20)

| | |
| --- | --- |
| Half Day: $200 |  Full Day: $350 |
A $100 set-up fee may apply depending on the room configuration needed. After-Hours Fee of $150.00/hour applies to all rentals before 8:30 AM or after 4:30 PM to accommodate for additional staff hours. Rates include all audiovisual services.
Please note that certain AV services are available in the full Conference Center or Training Room West only:
Videoconferencing
Audioconferencing with wireless microphones for enhanced sound (basic audioconferencing
available in Training Room East)
Looking for catering for your meeting?
Work with ICEP's meetings staff to determine pricing for catering arrangements based on your needs.
Contact ICEP's Tammy Swanson at 630.495.6400, ext. 222, to inquire about availability or to book your next function. Or, email tammys@icep.org.
Space will be reserved on a first-come, first-served basis.