Pilar Guerrero, MD, Appointed to State Board of Health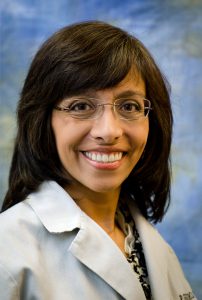 Gov. J.B. Pritzker has appointed ICEP member Pilar Guerrero, MD, to serve on the State Board of Health (pending confirmation by the Illinois Senate).
Dr. Guerrero is currently an Attending Physician at John H. Jr. Stroger Cook County Hospital and Assistant Professor at Rush Medical Center. Dr. Guerrero has contributed to research, book chapters, and publications focused on medical research and medicine. She has also provided numerous lectures, courses and interviews.
Dr. Guerrero is the medical director of ICEP's Medical Spanish for Emergency Departments course (postponed to 2021). She also serves as faculty for ICEP's Oral Board Review Course.
She currently volunteers for the NHMA UIC Medical School LMSA, Social Determinants of Health and Emergency Medicine- Cultural Awareness and Language/Disparities in Healthcare and Health Equity, Medical Organization for Latino Advancement (MOLA) Board of Directors, Mentor for Underrepresented Medical Students, 4-Men Only Community Health Fair, and the Illinois Medical Emergency Response Team (IMERT)..
She is a member of ACEP as well as the National Hispanic Medical Association (NHMA) Board of Directors, NHMA, NHMA Annual Conference Planning Committee, and NHMA Midwest Regional Chair.
Dr. Guerrero earned a Bachelor of Science, Majors in Nursing and Spanish Language and Literature from Northern Illinois University and Doctor of Medicine from the University of Michigan Medical School.