COVID-19 Resources
COVID-19 Vaccine Resources
Percent of Delivered First Vaccine Doses Administered by U.S. States and Territories – CDC has created a map to show the percentage of first doses of vaccines that have been administered in each jurisdiction from their supply. This information can be used to better understand how states are using their supply to initiate vaccination within their community. To learn more, please visit: About COVID-19 Vaccines
V-safe COVID-19 Vaccine Pregnancy Registry – CDC is inviting people who received COVID-19 vaccination in the preconception period (within 30 days before the last menstrual period) or during pregnancy to participate in the v-safe COVID-19 Vaccine Pregnancy Registry. Pregnant people who would like to participate must be enrolled in v-safe. To learn more, please visit: V-Safe Pregnancy Registry
Additional COVID-19 Resources
Myocarditis Occurring After Immunization With mRNA-Based COVID-19 Vaccines – Two reports in the current issue of JAMA Cardiology describe cases of acute myocarditis that occurred among persons who received the BNT162b2-mRNA (Pfizer-BioNTech) or mRNA-1273 (Moderna) messenger RNA (mRNA)–based COVID-19 vaccines authorized for use in the US. During the clinical evaluations of these patients, alternative etiologies for myocarditis were not detected.
Morbidity and Mortality Weekly Report (MMWR) – Disparities in Learning Mode Access Among K–12 Students During the COVID-19 Pandemic, by Race/Ethnicity, Geography, and Grade Level – United States, September 2020–April 2021 – In response to the COVID-19 pandemic, schools across the United States began transitioning to virtual learning during spring 2020. However, schools' learning modes varied during the 2020–21 school year across states as schools transitioned at differing times back to in-person learning, in part reflecting updated CDC guidance. Reduced access to in-person learning is associated with poorer learning outcomes and adverse mental health and behavioral effects in children. Data on the learning modes available in 1,200 U.S. public school districts (representing 46% of kindergarten through grade 12 [K–12] public school enrollment) from all 50 states and the District of Columbia during September 2020–April 2021 were matched with National Center for Education Statistics demographic data. You can learn more here: Morbidity and Mortality Weekly Report
Morbidity and Mortality Weekly Report (MMWR) – Efficacy of Portable Air Cleaners and Masking for Reducing Indoor Exposure to Simulated Exhaled SARS-CoV-2 Aerosols – United States, 2021 – To investigate the effectiveness of portable high-efficiency particulate air (HEPA) cleaners and universal masking at reducing exposure to exhaled aerosol particles, the investigation team used respiratory simulators to mimic a person with COVID-19 and other uninfected persons in a conference room. The addition of two HEPA air cleaners that met the Environmental Protection Agency recommended clean air delivery rate reduced overall exposure to simulated exhaled aerosol particles by up to 65% without universal masking. You can learn more here: Morbidity and Mortality Weekly Report
Media Coverage
CBS2 Chicago feature on hospitalization surge – featuring Ernest Wang, MD, FACEP
Newsweek feature – featuring Seth Trueger, MD, MPH, FACEP, and Meeta Shah, MD
Chicago Tribune feature on healthcare worker pandemic fatigue – featuring Seth Trueger, MD, MPH, FACEP
Chicago Tribune front-page article on Covid surge – featuring Ernest Wang, MD, FACEP
Side Effects Public Media on Covid spike in Midwest – featuring Ernest Wang, MD, FACEP
New York Times feature on coronavirus misinformation – featuring Howie Mell, MD, MPH, FACEP
ABC7 feature on Rush ED – featuring Dino Rumoro, DO, MPH, FACEP
ABC7 Chicago Interview school reopening safety – featuring Christopher Colbert, DO, FACOEP, FACEP
WBEZ Interview with Ernest Wang, MD, FACEP
USA Today Op-Ed by Meeta Shah, MD
Daily Herald on patients waiting too long for care with Tom Scaletta, MD, FACEP
Chicago Tribune feature with Drs. Mark Cichon, Ed Ward, Tom Spiegel, and George Chiampas
WBEZ Investigation on delays in seeking health care – with Yanina Purim-Shem-Tov, MD, MS, FACEP
WGN-TV Interview with Ernest Wang, MD, FACEP
WBEZ Reset Interview with Ernest Wang, MD, FACEP
The 21st by Illinois Public Media Panel Interview with Ernest Wang, MD, FACEP
Illinois Newsroom article with Ernest Wang, MD, FACEP
ABC7 Chicago feature on mental health stresses for health care workers – featuring Christopher Colbert, DO, FACOEP, FACEP
Daily Herald feature on Dr. Kaleem Malik
NBC 5 Chicago on high-flow nasal cannula at U of C – featuring Tom Spiegel, MD, MBA, MS, fACEP
ABC News on disparities faced by black communities – featuring Garth Walker, MD, FACEP
Chicago Tribune feature on Rush University Medical Center – featuring Paul Casey, MD, FACEP, & Yanina Purim-Shem-Tov, MD, MS, FACEP
CBS This Morning – featuring Scott Samlan, MD, FACEP
Chicago Tribune 'Perspective' article – written by Carrie Mendoza, MD, FACEP
COVID-19 Preparedness for ED Leaders Webinar
Presented May 13, 2020, by Garth Walker, MD, MPH, Keri Robertson, DO, Ashley Magda, DO, & Ernest Wang, MD, FACEP
Presented April 22, 2020, by Thomas Spiegel, MD, MBA, MS, FACEP & Ernest Wang, MD, FACEP
Resources from Dr. Spiegel:
Presented April 8, 2020 by Edward Ward, MD, MPH, FACEP & Ernest Wang, MD, FACEP
Slide Deck – Dr. Edward Ward, Rush University Medical Center
RUMC COVID-19 Respiratory Playbook
Presented March 26, 2020, by ICEP President Ernest Wang, MD, FACEP
Thanks to all who joined us for President Ernest Wang, MD, FACEP's discussion sharing his experiences and data leading a large 4-hospital ED system through the evolving outbreak. 
Watch Now:


(Click icon bottom right to watch Fullscreen)
---
Special COVID-19 Edition EPIC Volume 2 Published!

The issue contains:
COVID-19 in Illinois News and Updates
Special Considerations for EMS in Illinois
Resources and News from National ACEP
Resources for Resident and Medical Students from EMRA
Spring Symposium Shifted to Virtual Format
And more!
News and Updates in Illinois
IDPH Releases Decision Support Algorithms for EMS Transport During COVID-19
IDPH has released decision support algorithms for EMS transport guidance during the COVID-19 pandemic for three patient populations: Critical patients; non-critical patients who do not have COVID-19-like illness symptoms; and non-critical patients who do have COVID-19-like illness symptoms.
View EMS Transport Algorithms
View full IDPH Alternate Transport Guidelines
Governor Pritzker Issues Executive Order Providing Immunity for Care Providers
The Governor of Illinois has signed an executive order that gives immunity from liability for those who provide care during the governor-declared emergency.  ICEP was one of the groups urging the governor to issue the executive order. View Executive Order
---
---
Resources from ACEP
Urge Congress to Protect Healthcare Workers on the Frontlines of Outbreak
Contact your U.S. Senators and House member and urge them to ensure emergency physicians and other frontline responders to the COVID-19 outbreak have the resources and supplies necessary to protect them while providing urgently needed care.
COVID-19 ACEP Spokesperson Toolkit 
ACEP's public relations team has developed a toolkit, including talking points, for members who are speaking to local and national media:Created to empower members to speak to the media on ACEP's behalf and keep them abreast of our messages to members of the public and policymakers. The toolkit includes:
General messaging guidance;
An overview of ways members can engage with ACEP's public social media campaigns; and
Talking points when speaking with the public and policymakers.
ACEP Offering Free Trial Membership
Do you know an EP who needs ACEP's COVID-19 resources? ACEP is offering a free 3-month trial membership right now! Trial membership provides access to all of ACEP's COVID-19 resources (including PPE updates), the COVID-19 discussion forum and more. Email a link to colleagues now!  Share trial membership with colleagues
---
The 2020 Emerging Global Pandemic and the Role of Emergency Physicians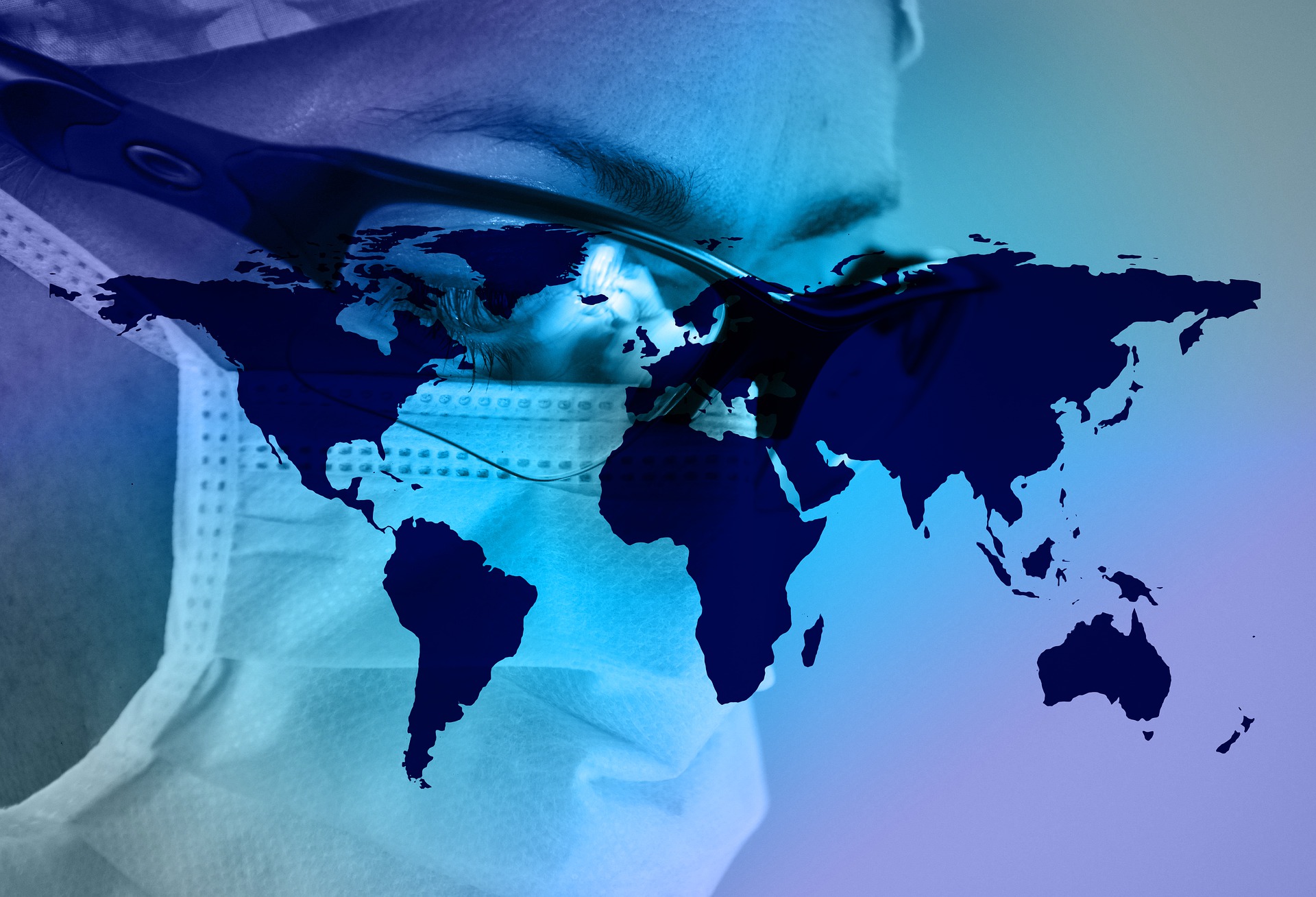 Jump to:
What Do We Know?  |  JAMA Infographic Summary  |  What Don't We Know?  |  What Can We Do?  |  Resource Links  |  WHO Media Briefing Remarks
From ICEP President Dr. Ernest Wang:
On February 29, 2020, the Illinois Department of Health announced that another Illinois resident has tested positive for coronavirus. The positive test results will have to be confirmed by the U.S. Centers for Disease Control and Prevention lab. The patient is hospitalized in isolation and CDC protocols have been implemented. This is the third case identified in the state of Illinois.(1)
It is no understatement that the evolving COVID-19 outbreak has captured the attention of the world as the number one medical story of 2020. With the first two documented cases in the U.S. surfacing in Illinois, and the first case of human-to-human spread, our state quickly became the center of national scrutiny. Fortunately, both patients have recovered and released from home isolation(2) and no healthcare workers contracted the virus.(3)
As of March 1, 2020, the disease has affected at least 87,137 people affected with the majority (79,968) of cases still centered in Hubei province in mainland China. Over 7,100 individuals in over 50 countries have also contracted the disease, with the largest outbreaks in South Korea, Italy, Iran, Japan, and aboard the cruise ship Diamond Princess.(4)
ICEP is working to keep the emergency medicine community of Illinois informed about COVID-19 as new information about the epidemic emerges. ICEP represents more than 1400 physicians who practice emergency medicine in our state, including most EMS medical directors.
ICEP has been in contact with and stands ready to assist IDPH in preparing our members to handle the arrival of patients in our EDs.
Dial 1-800-889-3931 or email
DPH.SICK@ILLINOIS.GOV
to have all your COVID-19 questions answered.
---
What Do We Know?
 
The global exposure rate is changing daily.

Updated information is available at the World Health Organization website (5) and the Centers for Disease Control (6)

We have to cast a wider net.

Community spread in the US has been documented in California and Washington state. Clinical criteria and epidemiological risk accounting for community spread have been updated to include "Fever with severe acute lower respiratory illness (e.g., pneumonia, ARDS) requiring hospitalization and without alternative explanatory diagnosis (e.g., influenza) AND No source of exposure has been identified."(7)

The first U.S. mortality, the first healthcare worker affected, and the first possible outbreak in a long-term care facility attributed to COVID-19 have occurred.

(8)

Most cases are mild.

81% with an overall case-fatality rate of 2.3%.(9)

Older patients

(>70 years) and individuals with chronic diseases (cardiovascular, diabetes, chronic respiratory, hypertension, and cancer) are at higher risk of severe or critical illness.(9)

PPE is important.

The Chinese Center for Disease Control and Prevention reported that 3.8% of the 44,672 confirmed cases were affected health care workers. Of these cases, 63% were in Wuhan, where the outbreak started.(9)

If it does show up, it will likely show up unannounced.

(10) This leaves front line personnel (registration staff, triage nurses, ED nurses, and physicians) with limited time to take countermeasures to quarantine suspected patients.

Exposure will impact your frontline staff.

Over 120 healthcare workers at UC Davis are currently under self-quarantine and monitoring due to potential exposure to the one COVID-19 case that presented there.(11)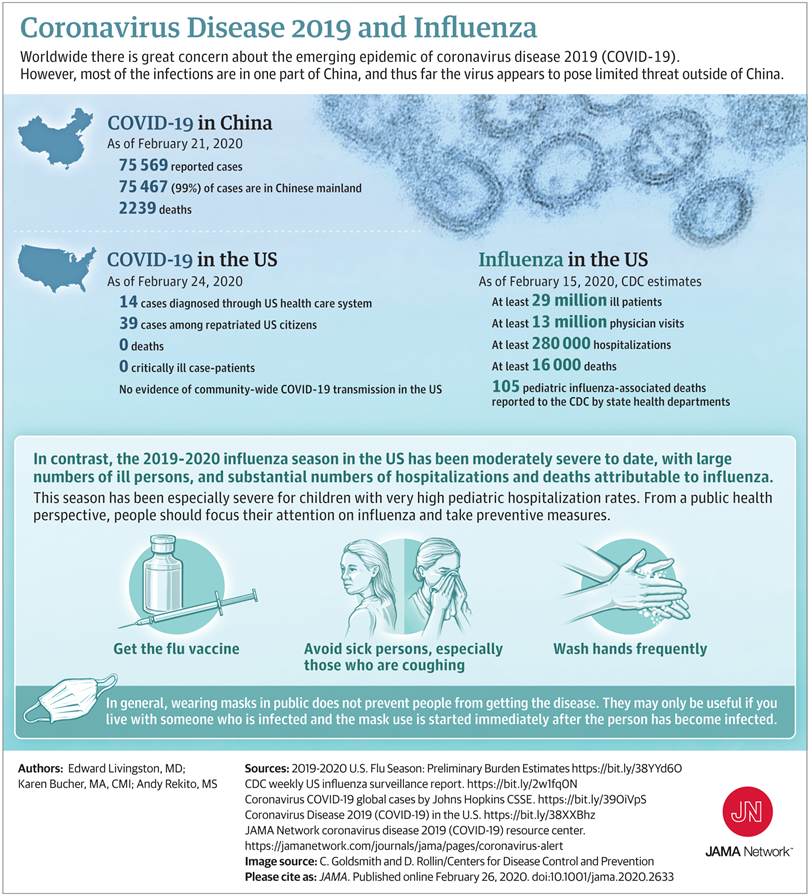 Note: At the time of publication of this page, 2 deaths have occurred in the United States, both in Washington state.
---
What Don't We Know?
There is much we don't currently know and that adds to our national anxiety. Can the virus be contained?  What will the course of this illness be? Will it become more or less virulent? These cannot be answered definitively at this point in time.
However, a much more important and actionable question that we can ask as  is:
How many people actually are affected in our local area? In our region? In the state of Illinois? In the U.S.?
If we don't know the true number of positive patients, asymptomatic or symptomatic, then we cannot know the true prevalence of the disease in our communities, nor can we estimate the true case fatality rate.
What is our preparedness at the state, municipal, and local level?
This topic is constantly evolving as we learn more. Connect with the relevant organizations using the Resource Links below.
When can we return to work if we treat a COVD-19 patient?
Although the current recommendation is two weeks of isolation and temperature monitoring and two negative tests, there are indications that the virus can resurface in individuals who have previously tested negative, turning these individuals into carriers.(13)
---
What Can We Do?
Spend your energy preparing rather than panicking.
Devote your clinical bandwidth to preparing and protecting your staff and yourselves for the next wave of COVID-19 patients. We have to manage what is truly under our control.
Take the following steps to ensure that your ED is as prepared as possible to deal with a suspected case of COVID-19:
Identify a local leader

at the institutional level (i.e. infection control, emergency preparedness) and in the ED.

Create open and fluid communication channels

to allow for rapid communication both internally and externally.

Ensure timely communication with the Illinois Department of Public Health

regarding any persons under investigation.

Create a plan

for your frontline staff (registration, triage, nurses, APPS, and ED physicians) for how you will identify and rapidly isolate a suspected case.

Create safeguards to prevent patient exposure

in the waiting room, in the ED, and in the hospital.

Simulate and drill the plan

to ensure that you identify gaps and latent operational threats. Are you ready for the first case? Do all of your staff have the knowledge and skills needed to safely manage a COVID-19 patient without significant forewarning?

Consider embedding a best practice alert in your EHR

that triggers at triage.

Create a patient testing protocol.

Where will the patient be tested (i.e. ED vs designated isolation inpatient rooms)?  Who are the designated individuals who will manage the patient? Only essential personnel should come into direct contact with patients.

Create

ED patient management protocols for ALL categories of patients – mild, severe, and critical – including those requiring intubation and mechanical ventilation.

Create a plan for supply chain management.

Ensuring adequate PPE including N95 masks, surgical masks, gowns, gloves, and PaPR equipment is essential to protect ED staff. There will likely be disruptions in supply due to production and demand.

Consider utilizing telehealth capabilities for remote evaluation.

This can limit exposure and PPE use.

Have a written visitor policy

Effective immediately, the following restrictions have been implemented to protect patients, visitors and staff:

Visitors under the age of 18 will not be permitted; exceptions can be made on a case-by-case basis at the discretion of the bedside care team

The number of visitors will be limited to two per patient at any one time

Promote compliance with Hand Hygiene and Respiratory Hygiene/Cough Etiquette

Visitors with symptoms of acute respiratory illness (including fever, cough, and sore throat) are advised to not visit patients in the hospital

Symptomatic visitors who wish to enter a patient room are required to wear a mask and should be instructed on the importance of hand hygiene

Visitors are strongly advised to receive influenza vaccination to prevent infection of themselves and reduce the possibility of transmission to others

Create a patient isolation and transport plan

to ensure safe transport of patients to dedicated inpatient units. Identify how many negative airflow rooms you have in your ED and your facility.

Create a staff post-exposure plan.

How you will manage staff after treating a COVID-19 patient or who have sustained potential low, medium, or high-risk exposure?
Finally, it is important to keep this outbreak in perspective. The spread of the coronavirus in a pandemic fashion does not correlate with increasing lethality. Current indications are that preparedness and basic protective measures are effective. What is clear is that ED physicians need to take proactive steps to work with their hospitals and health systems to ensure that the systems and processes are in place to best protect staff and patients. Your expertise, commitment, and courage taking care of any and all emergencies 24/7/365 sets you apart in the medical professions and I applaud and thank each and every one of you for your service.
---
COVID-19 Resource Links
Illinois Department of Public Health
COVID-19 Home  (updated Mondays, Wednesdays, and Fridays)
IDPH Clinical Guidance for Healthcare Providers
IDPH Patient Under Investigation Form
ACEP

JACEP Open Publication: Emergence and implications for emergency care
ACEP-ENA Joint Statement on Need for Resources
ACEP Patient-Facing Information
CDC
Resources for Healthcare Professionals
Recommendations for Infection Control
Evaluating and Reporting Patients Under Investigation
World Health Organization
Coronavirus Disease (COVID-19) Outbreak Home
WHO-China Joint Mission on COVID-19
---
I would like to finish with advice from Dr. Tedros Adhanom Ghebreyesus, WHO Director-General:
World Health Organization Media Briefing on COVID-19
February 28, 2020
Dr. Tedros Adhanom Ghebreyesus, Director-General
"…there are 10 basic things that you should know.
First, as we keep saying, clean your hands regularly with an alcohol-based hand rub, or wash them with soap and water.
Touching your face after touching contaminated surfaces or sick people is one of the ways the virus can be transmitted. By cleaning your hands, you can reduce your risk.
Second, clean surfaces regularly with disinfectant – for example kitchen benches and work desks.
Third, educate yourself about COVID-19. Make sure your information comes from reliable sources – your local or national public health agency, the WHO website, or your local health professional. Everyone should know the symptoms – for most people, it starts with a fever and a dry cough, not a runny nose. Most people will have mild disease and get better without needing any special care.
Fourth, avoid traveling if you have a fever or cough, and if you become sick while on a flight, inform the crew immediately. Once you get home, make contact with a health professional and tell them about where you have been.
Fifth, if you cough or sneeze, do it into your sleeve, or use a tissue. Dispose of the tissue immediately into a closed rubbish bin, and then clean your hands.
Sixth, if you are over 60 years old, or if you have an underlying condition like cardiovascular disease, a respiratory condition or diabetes, you have a higher risk of developing severe disease. You may wish to take extra precautions to avoid crowded areas, or places where you might interact with people who are sick. 
Seventh, for everyone, if you feel unwell, stay at home and call your doctor or local health professional. He or she will ask some questions about your symptoms, where you have been and who you have had contact with.
This will help to make sure you get the right advice, are directed to the right health facility, and will prevent you from infecting others.
Eighth, if you are sick, stay at home, and eat and sleep separately from your family, use different utensils and cutlery to eat.
Ninth, if you develop shortness of breath, call your doctor and seek care immediately.
And tenth, it's normal and understandable to feel anxious, especially if you live in a country or community that has been affected. Find out what you can do in your community. Discuss how to stay safe with your workplace, school or place of worship.
Together, we are powerful. Containment starts with you.
Our greatest enemy right now is not the virus itself. It's fear, rumours and stigma.
And our greatest assets are facts, reason and solidarity."(14)
---
ICEP will be working to provide access to information and resources to help you in your efforts to take care of these patients if and when they arrive at your door. Updates will be posted here at ICEP.org as well as sent directly to your email and posted on ICEP's Facebook and Twitter.
With gratitude and respect,
Ernest Wang, MD, FACEP
President, Illinois College of Emergency Physicians

Article References