Display & Classified Advertising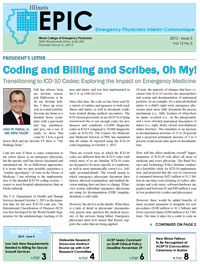 The Illinois EPIC is the bi-monthly newsletter of the Illinois College of Emergency Physicians. ICEP reaches more than 1,300 emergency physicians in Illinois and 150 more emergency medicine leaders throughout the country.
If you have a professional opportunity, product or service that you want to market to emergency physicians, the Illinois EPIC will get you noticed.
Advertising Contact
For questions or insertion orders, please contact
Kate Blackwelder at 630.495.6400, ext. 205, or e-mail kateb@icep.org
A unique targeted audience, a specialty publication sought after by members and a specific editorial format — the EPIC has it all, with one important feature: Advertising rates in the EPIC are very affordable.
A great value for your marketing dollar, the EPIC helps you reach your audience by providing a complete line of advertising services. Both display and classified ads are accepted.
View complete 2016 Illinois EPIC Rate Sheet
Read recent issues of Illinois EPIC
Advertising Rates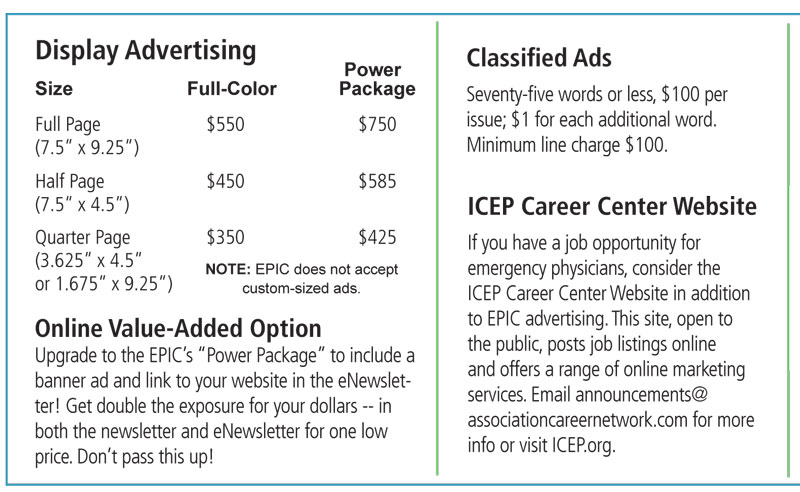 Full-Year Ad Commitment Pricing
Commit up front to place your display or classified ad in all 6 issues of the 2016 EPIC and save money! Prepayment must be made via credit card before first issue to qualify for discount.
• Take 15% off the total for any size display ad.
• Take 10% off the total for classified ads.
Issues will be provided to advertisers via email. Tear sheets will not be mailed.
Publication Schedule
The EPIC is published bimonthly and delivered via email to members.
Advertising Deadline
Advertisements are accepted on a rolling basis. Please contact Kate Blackwelder for deadlines for upcoming issues. Advertisers who wish to run their ads in multiple issues of the EPIC may indicate that on the first insertion order.
Display Ad Design
The EPIC provides design services for display ads at a rate of $50 per hour of work.
In Every Issue
The Illinois EPIC is the easiest way to stay up to date on all the news that matters to Illinois emergency physicians. Here's what you'll find in each edition:
State and national emergency medicine news
Chapters news and previews of upcoming educational programs
Updates from ACEP
Letter from ICEP's president
Specialty articles written by other ICEP members
Current emergency medicine research
Other emergency medicine-related features
Professional opportunity listings within Illinois and surrounding states
Advertising Guidelines
1.  All ads must be in a camera–ready format. High-resolution PDF files are preferred; JPEG, TIFF, EPS, or PSD files are also accepted.
2.  Positioning of ads is at the publisher's discretion.
3.  Products or services eligible for inclusion should pertain to the practice of emergency medicine, continuing medical education, health care delivery, or be of interest to emergency physicians.
4.  Advertisements may not contain discriminatory statements or conditions.
5.  The appearance of advertising in the Illinois EPIC is neither a guarantee nor an endorsement of the product or the claims made.
6.  Products subject to approval by the FDA must be approved for marketing in the U.S. and advertising must meet FDA requirements.
7.  Advertising must be clearly distinct from editorial copy. The word "advertisement" may be required.
8.  Unfair statements regarding a competitor's products or services are not allowed.
9.  Documentation of research quoted in ad copy may be required for the Illinois EPIC.
10.  Advertisers assume liability for all ad content and for any claims arising against the publisher. The publisher reserves the right to reject any ad copy.
___________________________________________________________________________
Illinois EPIC is published by the Illinois Chapter, American College of Emergency Physicians. Opinions expressed in this newsletter do no necessarily express the views of ICEP.
All advertisements appearing in the Illinois EPIC are printed as received from the advertisers. Advertisement in the EPIC does not imply endorsement of any product or service by the Illinois College of Emergency Physicians. ICEP receives and publishes advertisements but neither reviews, recommends or endorses any individuals, groups or hospitals who respond to these advertisements.