Congratulations to ICEP Awards Winners
Dino P. Rumoro, DO, FACEP, Stewart Reingold, MD, MS, FACEP, and David Griffen, MD, PhD, FACEP, were honored as the 2019 recipients of ICEP's annual awards at the Spring Symposium on April 25 at Northwestern Memorial Hospital.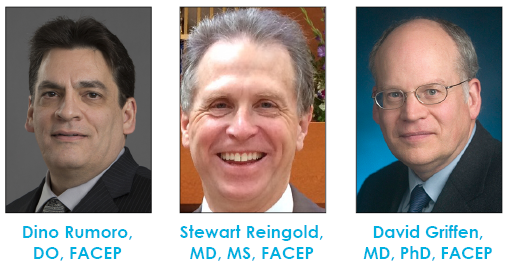 Bill. B. Smiley Award
Dr. Rumoro is the recipient of the Bill B. Smiley Meritorious Service Award, which honors individuals who have made significant contributions to the advancement of emergency medicine in Illinois. The Bill B. Smiley award is ICEP's highest honor.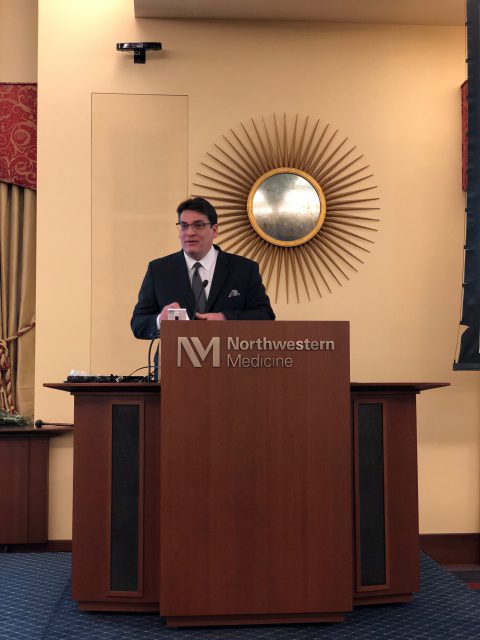 Dr. Rumoro is an ICEP Past President and served on the Board of Directors from 2002 to 2007. He was re-elected to the Board in 2009 and served a second term of service. He has also served as chair of several ICEP committees and as faculty for ICEP's flagship board review courses.
Dr. Rumoro is President of the Rush Medical Staff and Vice Dean for Rush University Medical Center Office of Integrated Education and Clinical Faculty Operations. He is also Chairperson and Associate Professor in the Department of Emergency Medicine at Rush.
At Rush, Dr. Rumoro developed the Advanced Trauma Training Program which focuses on pre-deployment advanced medical training for the military. In 2005, Dr. Rumoro was named a Clinical Transformation Officer to assist with the planning and building of Rush's Tower and a state-of-the-art emergency department designed to be the first chemical, biological and radio-nuclear civilian-based response facility to augment the existing trauma system.
Dr. Rumoro completed his emergency medicine residency at John H. Stroger, Jr. Hospital of Cook County and attended medical school at Midwestern University's Chicago College of Osteopathic Medicine.
ICEP Meritorious Service Award
Dr. Reingold, of Chicago, is the recipient of the ICEP Meritorious Service Award, honoring his significant contributions to the advancement of emergency medicine by exemplary service.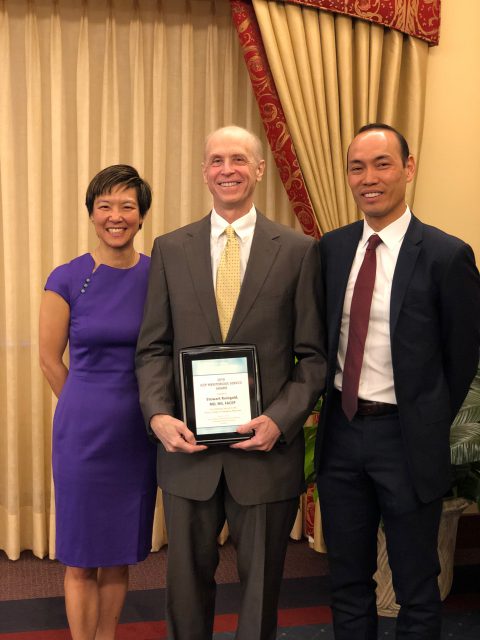 Dr. Reingold served on ICEP's Board of Directors from 1995 to 1998 and has been an ACEP member since 1988. He has served on numerous ICEP committees over the past three decades, presented the Pediatric Emergency Medicine lecture at ICEP's Written Board Review Course for 10 years, and continues to teach Oral Board Review Courses.
Dr. Reingold has a long history of patient advocacy and service. He designed and implemented revised State of Illinois Sexual Assault Evidence Kits with the Illinois State Police in the mid-1990s. He was truly ahead of his time on this important issue, and the changes he made have a lasting impact today.
Dr. Reingold is an attending physician at Loyola University Medical Center in Maywood and Co-Director of Vertical Curriculum in Quality and Patient Safety at Loyola's Stritch School of Medicine.
He graduated from Case Western Reserve University Medical School in Cleveland, Ohio, and completed his residency in emergency medicine at Christ Hospital and Medical Center in Oak Lawn.
Downstate Member Service Award
Dr. Griffen, of Springfield, is the recipient of the Downstate Member Service Award, which recognizes an ICEP member from outside the metropolitan Chicago area who has made a consistent effort to advance emergency medicine in Illinois despite lengthy travel.
Dr. Griffen is a Past President who served on the Board of Directors on two separate occasions: once from 1994 to 1997 and again from 2010 to 2016. He distinguished himself on the Board with his analytical, solutions-oriented innovations that resulted from his Lean Six Sigma Green Belt certification.
Dr. Griffen continues to remain involved as a Councillor and on a wide variety of committees, including Awards/Nominating, Bylaws, Finance, Membership, and Patient and Physician Advocacy.
He has been an active advocate at all of ICEP's Advocacy Days in Springfield and has encouraged all of his staff and residents from Springfield to do the same. He received the the Bill B. Smiley Award in 2017.
Dr. Griffen is Associate Professor and Chair of the Division of Emergency Medicine at the Southern Illinois School of Medicine in Springfield. He was the first residency director for the EM residency program that started at SIU School of Medicine in 2008.
Congratulations to these three distinguished recipients!